Tour of the New House + A Progress Report
I know I promised this a few weeks back, but the holidays hit and while I was happy to spend them in the city for once it was a bit of a whirlwind and we're all still getting back on track. Apologies aside, I know what you're here to see, and that is a tour, so I won't keep you waiting any longer.
Here's the space! There is so much we love about it, the Victorian architecture, the insane little details- from the cherub busts in the corners of the molding around the Bay Windows to the clawfoot tub and antique hardware on nearly every door, and there are the things we don't. Most obvious would be the wallpaper and trim color, while the paper itself is beautiful in its own right, it's dark and heavy, and we feel as though we're inhabiting some sort of museum as it is so period specific. Also, the color scheme with the red walls, green trim and pale blue ceilings with a snowflake print have led us to start joking that Father Christmas must have once inhabited the space (conversely, my two-year-old insists "Elsa was here!" pointing to the snowflakes).
Joking aside, we do want to be respectful of the original character and history of the home. While we are looking to bring aspects of it into the modern age, if we were looking for a strictly modern space we wouldn't have purchased a Victorian. Finding a way to marry the original details, layout, and materials with our aesthetic and lifestyle: one which now includes two kids and two dogs, is going to be a challenge to be sure, but as you may be aware by this point, I love a good challenge.
Aside from the wallpaper and paint, that clawfoot tub we mentioned above? There is only a tub on the main level of the house (there is a shower in the in-law unit). I love a good soak, but showers are a necessity when you're often short on time and juggling two kids. The original floors are still intact but in real need of refinishing and repair plus the back of the house is addition and has a combination of mismatched wood and white carpet. We plan to match and extend the existing flooring both for practical reasons (kids) and to unify the house. Finally, the master closet is actually quite big, but the door that opens into it is small, offset to one side and opens into an air-duct leaving just about half the width of a door to squeeze into a sizeable reach-in closet.
Our plan, for now, is to strip the wallpaper and repaint, refinish and extend the flooring, move the closet door to the center of the wall and double it, convert the bedroom door to a pocket door, install a pasta faucet in the kitchen and some lights in the laundry closet. We hope to do this before moving in so we can avoid moving our furniture out again while the floor is being sanded and refinished and because we don't want to expose the new baby to dust and fumes. The only issue right now is finding a contractor! There is no shortage of work for them in the Bay Area, and it's proving a challenge to find someone who follows through after an initial estimate.
Once the immediate changes are made, we should be able to move in and from there slowly tackle one project at a time… I've been hoarding Heath seconds for a future backsplash, searching for the perfect mantel to restore the original fireplace that has since been removed and dreaming about creating a garden filled with seasonal veggies, fruit trees and cutting flowers, to start. As a lifelong renter I've had ample time to mull over "what I would do if I ever had a place" and while some of my ideas might be a bit -ahem- ambitious, I can't wait to get started.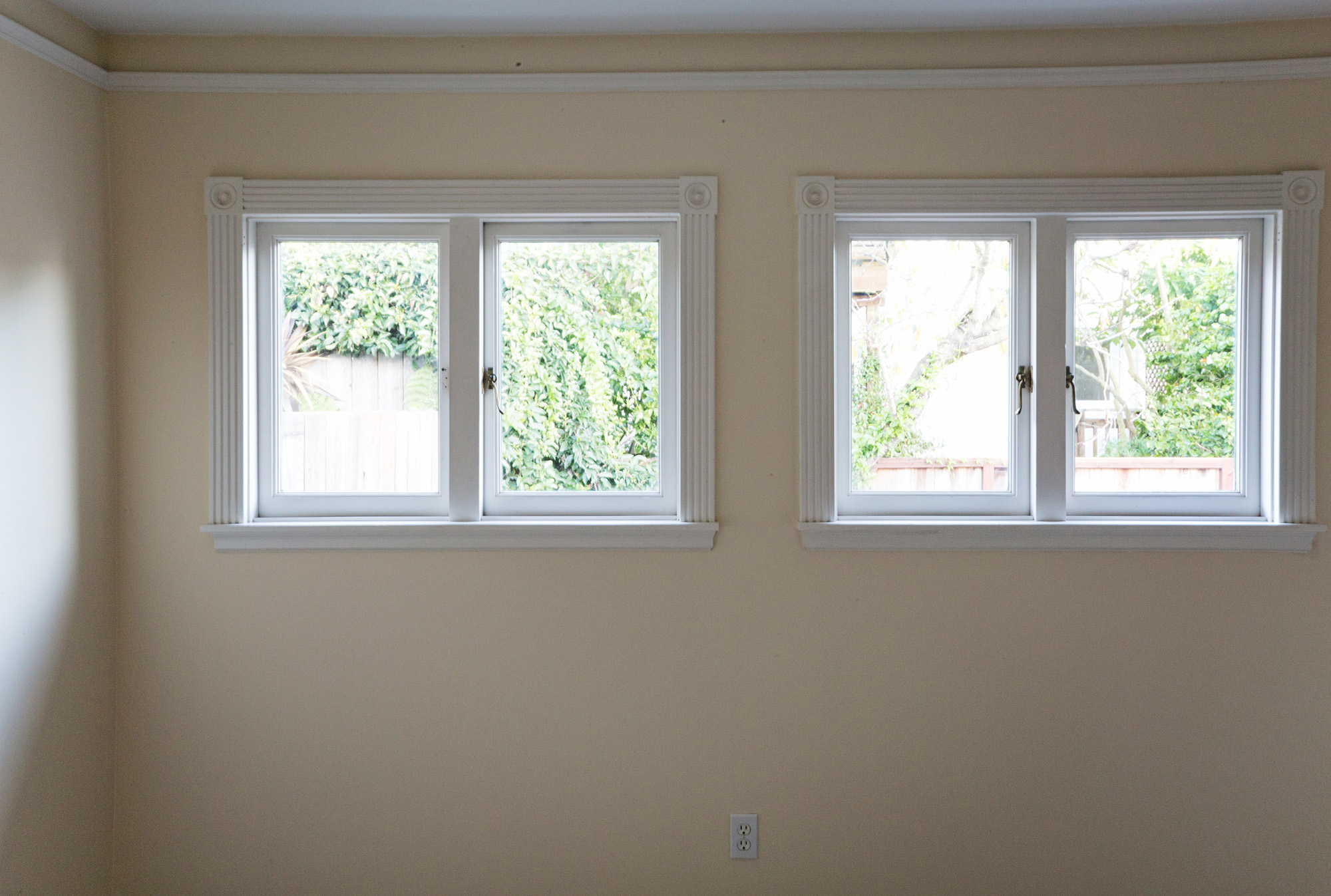 * In-law unit not pictured, that is another story for another time.