"Untoddlered" Bathroom Before and After
If you followed along with me during the January Cure, you might remember that one of my sore points was the bathroom. We only have one in our place, so it had to function well for every member of the family, but it was quickly going from a spot to unwind with a bath at the end of the day to an overflowing, plastic-y mess. While there's only so much that I could actually get rid of, as function comes first, I did find a few more attractive storage solutions and ways to streamline things while freeing up some surface space.
*This post contains affiliate links and I will be compensated if you make a purchase after clicking on my links, click here for our full policy and disclosures. All prices are at time of publication.
One of the first things that I chose to address was the window dressing, previously we only had blinds that lifted up, meaning we could either keep them closed and lose the natural light or open them up and risk being seen by our neighbors whose roof deck is right across the way.
To create a little privacy, I made a simple curtain out of an old shower curtain and suspended it in the frame on a tension rod (you can find a tutorial for the matching roman blind I made for the water closet here). It is just high enough to provide privacy while letting plenty of light in and introducing a subtle print to the space for visual interest. I further took advantage of the sunlight by hanging a plant off of a hook in the window in a pretty macrame hanger. I wish I could say I made it myself but I picked it up instead at Target for under $15.
I also de-cluttered the towel rack a bit by hanging a command hook on the back of the bathroom door, so I could hang my daughter's hooded towel and swapped out the mismatched bath and hand towels for a set of matching blue Turkish towels.
It's tough to see in the image above, but we cleaned up the area under the sink by swapping out the plastic shower stool (leftover from my first stint on bedrest) for a more attractive wooden one and adding a basket large enough to hold all of the extra towels.
Another favorite solution was to replace the plastic bin of toys that suctioned to the wall with a hanging market bag. The bin was forever coming loose meaning my own relaxing baths were often crashed quite literally by a flock of rubber duckies. I picked up a three pack of the bags on Amazon (they're amazing for the farmer's market as well) so that I could replace them as needed but so far it's held up well, and everything dries quickly.
We also swapped the bath mat for a simple, clear pebbled one that we can leave in place and is barely noticeable (you can see it in the slideshow below).
The project that made the most significant difference to me was swapping out all of the assorted bottles of product for these refill-able pump containers. I love the look of amber bottles (and the fact that they keep sunlight from degrading the product) but with a toddler around glass was a non-starter. Instead, I picked up these bottles in two sizes. The larger 32 oz size to hold shampoo conditioner and body wash and the smaller 16 oz size fit perfectly in a duo of over the door organizers. The organizers themselves are chrome plated steel and not designed for in shower use but they out of the way enough not to be getting soaked in the shower and for extra measure gave them a couple clear coats of Rust-Oleum before use. For the labels, I wanted an old-fashioned pharmacy look that was completely waterproof, so I picked up an embossing label maker for under $15. It was fun to use, and I loved the results.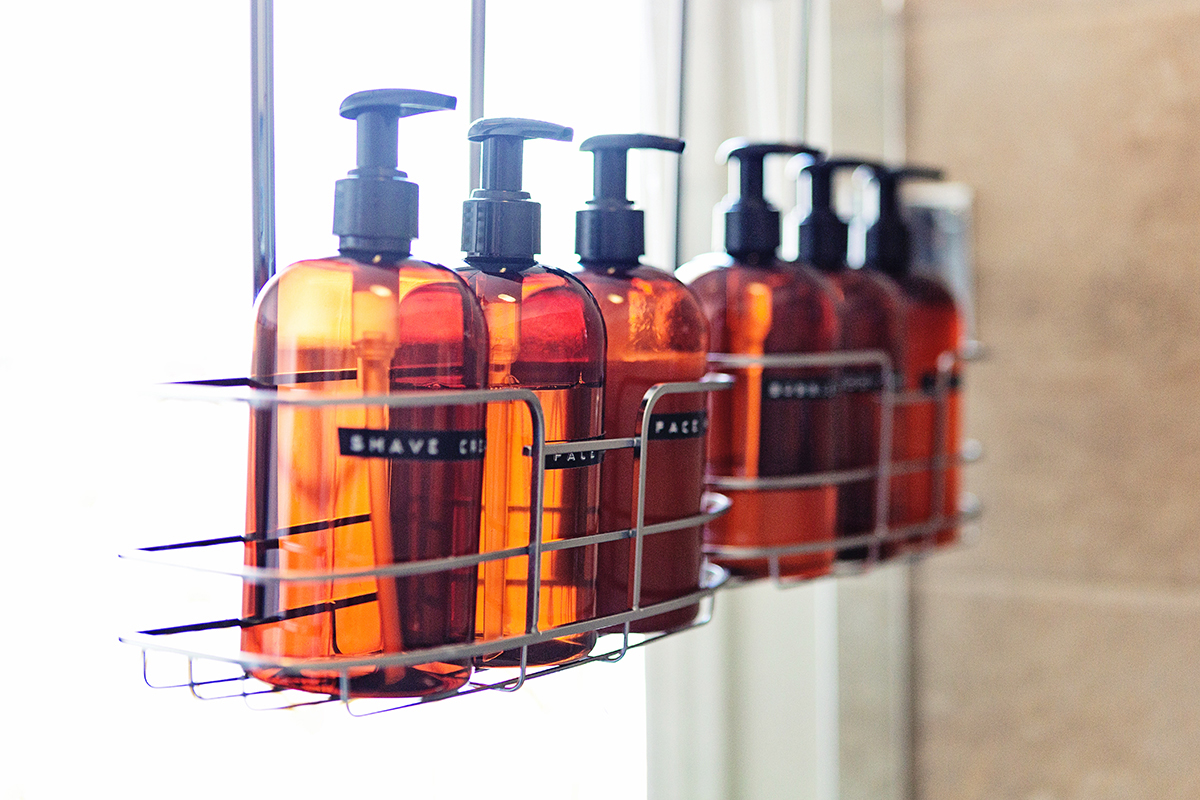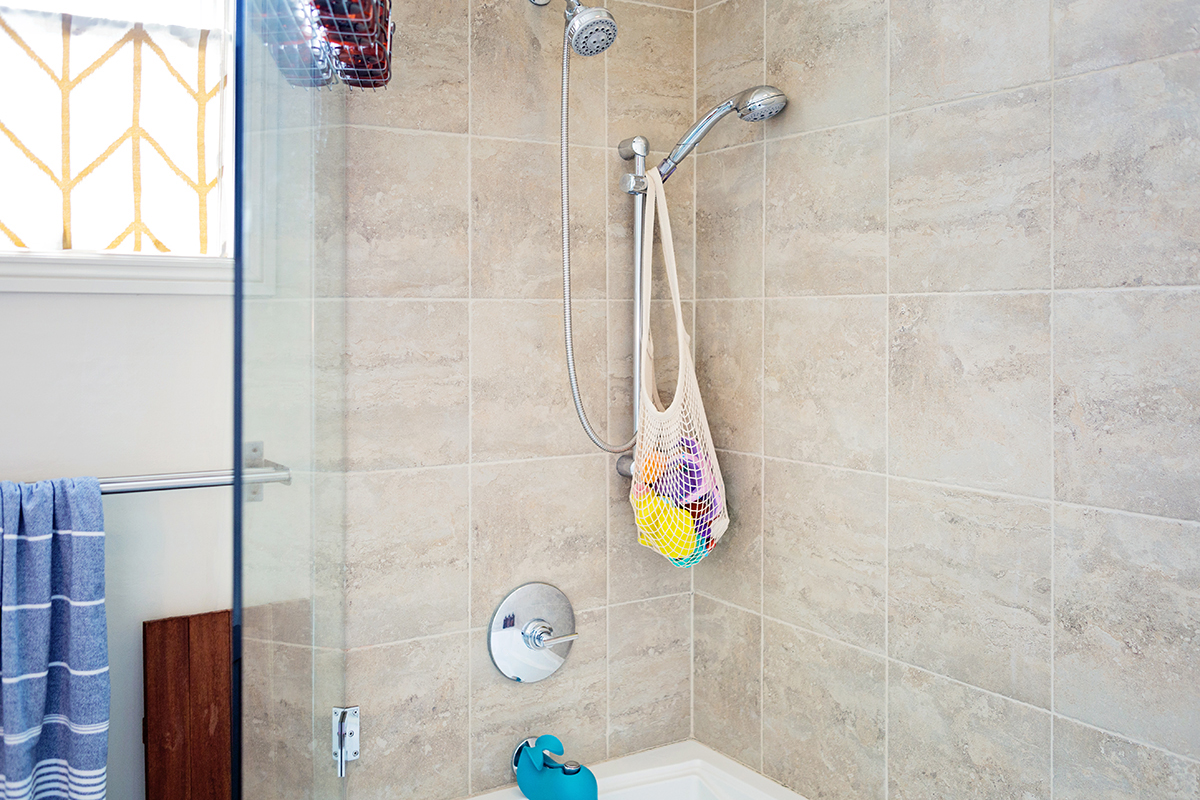 Resources:
43" White Macrame Hanging Planter, $13 | White 16"-24" Tension Rod, $4 | Pebble Bath Mat Clear, $3.09 | Command Towel Hook Value Pack, $9 for 3 | DimiDay Cotton Net Shopping Tote, $16 for 3 | 32 oz Amber Plastic Bottles, $20 for 3 | 16 oz Amber Plastic Bottles, $20 for 6 | Lynk Tall Over Cabinet Door Organizer, $10 each | Rust-Oleum Stops Rust Spray Paint in Satin Clear, $4.25 | DYMO Organizer Xpress Handheld Embossing Label Maker, $13
Total: $122